On October 17-18, 2017 a Belarusian delegation headed by H.E. Andrei Dapkiunas, Deputy Minister of Foreign Affairs of the Republic of Belarus is on a working visit to Indonesia.

October 17, 2017 the Sixth Session of the Intergovernmental Belarusian-Indonesian Joint Commission on Trade, Economic, Scientific and Technical Cooperation was held in Jakarta. Both sides agreed to intensify the trade, economic and investment cooperation between the countries and discussed the prospect of further increase of the supplies of the machinery produced by the Belarusian joint stock companies "MAZ", "BelAZ" and "MTW".

The Indonesian Side expressed its intention to complete in the near future the implementation of the domestic procedures required for the entry into force of the Intergovernmental Belarus-Indonesia Agreement on Avoidance of Double Taxation, which was signed in March 2013 during the state visit to Indonesia of the President of the Republic of Belarus A.Lukashenko. The sides also agreed to resume the work on the draft Intergovernmental Agreement on Promotion and Mutual Protection of Investments.

One of the results of the preparations for the Sixth Session of the Joint Commission was the decision of the Ministry of Agriculture of Indonesia made on October 10, 2017 to issue permits for the supply of milk products from the enterprises of the JSC «Savushkin product» located in the Belarusian cities of Brest and Pinsk. It was also decided at the Joint Commission to set up working groups on cooperation in the fields of industry and agriculture.

In the field of science and technology cooperation the sides welcomed the work, which is being carried out by the concerned state bodies of the two countries to prepare for the second meeting of the Belarusian-Indonesian Joint Working Group on Cooperation in the Field of Science, Technology and Higher Education by the end of 2017 in Minsk.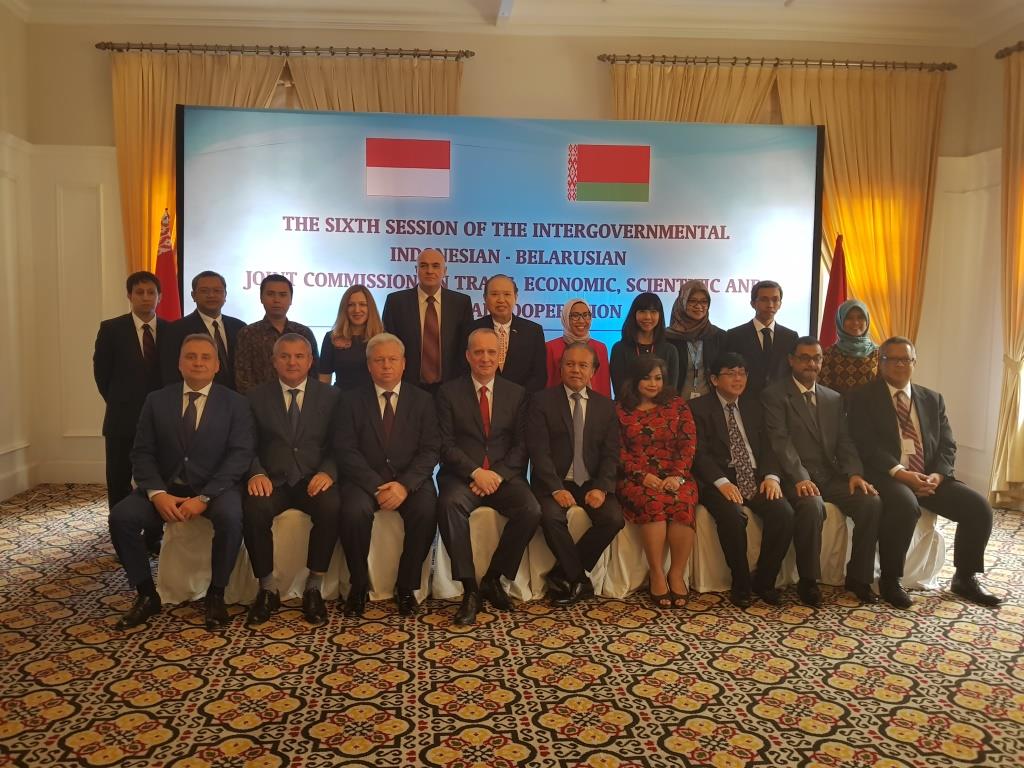 Participants of the Sixth Session of the Intergovernmental Belarusian-Indonesian Joint Commission on Trade, Economic, Scientific and Technical Cooperation



Signing ceremony of the Record of Discussion of the Sixth Session of the Intergovernmental Belarusian-Indonesian Joint Commission on Trade, Economic, Scientific and Technical Cooperation



H.E. Andrei Dapkiunas with the Co-Chair of the Joint Commission Mr. M.Anshor, Director-General for American and European Affairs of the Ministry of Foreign Affairs of Indonesia (ranked as a Deputy Minister)