On the events of the 2nd Eurasian Economic Forum
29.05.2023
In 2023, the Republic of Indonesia is Partner Country of the 2nd Eurasian Economic Forum.
Within the framework of the Forum, a series of events was held with the participation of authorities and business community of this country.
On May 25, the participants of the EAEU-Indonesia business dialogue considered the key issues for deepening cooperation, creating supply chains, and developing of trade. The business dialogue was continued in the format of a business breakfast and B2B events.
On May 26, in order to discuss promising vectors for cooperation the Belarusian-Indonesian business forum was held in the Business and Cultural Complex of the Embassy of Belarus in Moscow. The Ambassador of Indonesia to Belarus Jose Antonio Morato Tavares, Indonesian regional authorities and about 40 companies of the two countries took part in the business event.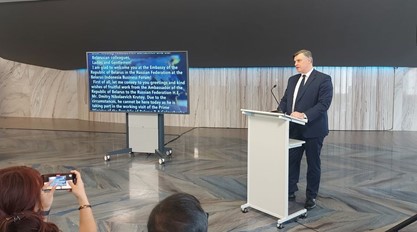 These events were held as part of scheduled joint Belarusian-Indonesian events, marked by the 30th anniversary of the establishing diplomatic relations between the Republic of Belarus and the Republic of Indonesia.